Business Growth requires training! NYIT and Wardell partner to deliver.
Wardell International and the New York Institute of Technology have signed an agreement to deliver Vancouver's first Executive Education, specifically for Professionals serving the SME (Small-Medium sized Enterprise) market, such as Accountants, Business Coaches, Financial Advisors and Board members.
Participants will receive an accredited business education (like a condensed MBA) in the context of an Advisor's role. The program is delivered in a dynamic, interactive learning environment with an emphasis on real case work, taught by seasoned business advisors, as well as special-guest lecturers.
Course materials will consist of 6 modules covering the areas of Leadership, Management, Marketing, Finance, Operations, and Sales. And participants will utilize ManagementDriver, an on-line Business Management Platform, to implement their work.
---
The inaugural course will take place over 8 Saturdays at the NYIT Vancouver campus, beginning the first week in October.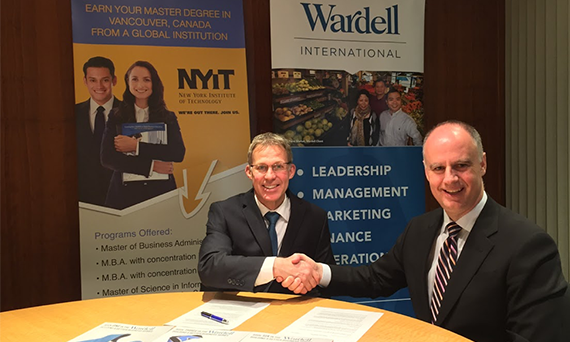 Says Mark Wardell, President of Wardell International, "we are excited at the opportunity to make available the same high-quality programming and services we provide to our own business advisors, to the professional community at large. With campuses world-wide and a first-class MBA program, NYIT is the ideal educational partner for us."
Says Paul Dangerfield, Executive Director and Dean of the NYIT Vancouver campus, we are thrilled to work with Wardell International on this exciting project where participants will learn to apply best practices to run a successful small and medium sized business from industry leaders using innovative tools and technology.